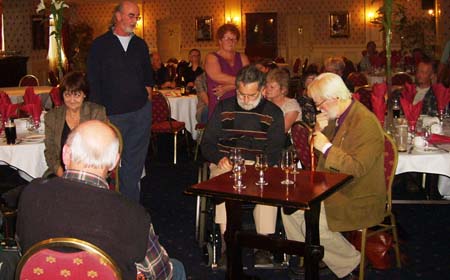 Greg O'Hanlon and Tom Munnelly listen to Gerry Cullen sing at the Bellbridge Hotel May 2007
Féile Amhráníochta an Chlair, The Clare Festival of Traditional Singing was started by the late Tom Munnelly in 1990. For the first 13 years it took place in the North Clare market town of Ennistymon on the June bank holiday weekend. The centrepiece of each festival was the Grand Concert held in the former Church of Ireland church, St Andrew's, now designated as a Teach an Ceoil and traditional music venue.
With the onset of Tom's illness the event was moved to Bellbridge Hotel in spanish Point, near Miltown Malbay. As Tom's illness developed it was decided to suspend the event for a number of years. Tom's death in August 2007 was the catalyst for its revival and in November 2008 it found new life with Tom's widow Annette, his son Colm and some other lovers of unaccompanied traditional singing on the organising committee.
Now held on the first weekend in November each year, it is a bilingual festival with both the English language and the Irish language traditions being given equal prominence. The format is similar to the other singing festivals with a mix of scholarly lectures, a singing workshop, a seminar for discussion and a showpiece concert featuring the invited guests.
In 2009 the festival entitled 'O Glúin go Ghluin' will focus on the passing on of tradition through families. It will feature some of the best known singing families in Ireland, The Uí Ceallaigh's, mother Áine and sons Iriel and Éadán from An Rinn in the Waterford Gaeltacht, Rosie Stewart, and one of her pupils Kreena Mulcrone, from Fermanagh, The Uí Ceannabháin's, father Peadar and daughter Saileóg from the Connemara Gaeltacht, Jim and Seamus MacFarland from Derry and local singers The Cleary's, mother Bridie and son Peadar.
It is a fitting way to commemorate Tom and his incalculable contribution to the recording and preserving of Irish Traditional Song.
The reason it's not called the Tom Munnelly festival, is that while he was alive and knew he was dying he said that if we named a singing festival after him he'd "come back and haunt us".
In deference to his wishes it's not called the Tom Munnelly festival, even though his presence permeates it.
Jerry O'Reilly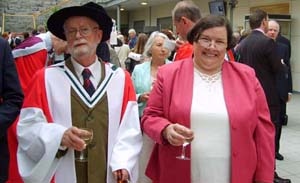 Tom Munnelly receives his doctorate with his wife Annette in 2007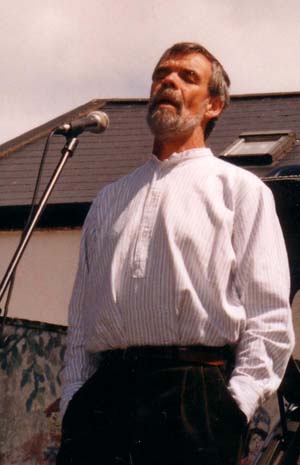 Jerry sings at Enistymon