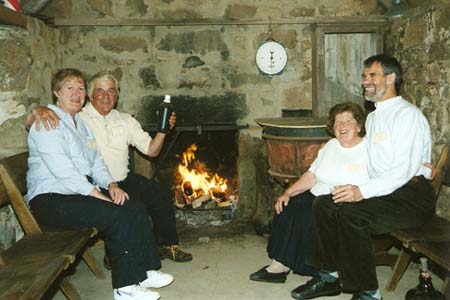 Cullerlie, July 2001: Roisin White, Tam and Anne Reid and Jerry O'Reilly
The traditional singing weekend at Cullerlie is held in Cullerlie Farm Park, near Echt, in Aberdeenshire in late July each year. Founded by Tom 'Tam' Reid (The Bothy Ballad King) his wife Anne and Ian and Norma Russell of the Elphinstone Institute of the University of Aberdeen in 2000.
The weekend aims to celebrate all that is good in the singing traditions of Scotland, England and Ireland.
The format is essentially informal with just two performance ceilidh concerts held on the Saturday night and Sunday afternoon. It has shown remarkable resilience in surviving the death of 'Tam' in 2004 and then Anne in 2006.
The baton has been taken up by Tam and Anne's daughter Tracey and her husband Eric who have managed to maintain the atmosphere and commitment shown by Tam and Anne.
The Festival is a unique celebration, bringing together outstanding traditional singers from Scotland, England, and Ireland. The weekend includes ceilidhs featuring the guest singers, singarounds for everyone who wants to join in, workshops, and a talk.
As part of the Homecoming celebrations, they marked the anniversary of the birth of Robert Burns in 1759 with a talk and a workshop on the Bard.
Jerry has been a guest at the festival twice, in 2001 and again in 2007, and attended again in 2008 to witness the meeting of the two major 'songsmiths' of these islands Adam McNaughton from Scotland and Con 'Fada' Ó Drisceóil.
Adam has written the classic comic account of Hamlet and also Macbeth, and Con has written a comical account of King Lear. An event not to be missed!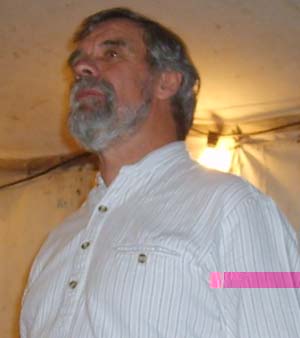 Jerry sings at Cullerlie 2007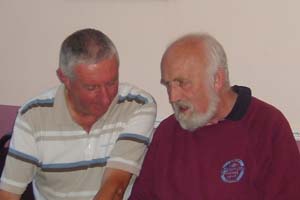 Con 'Fada' Ó Drisceóil in discussion with Adam McNaughton 2008