The organisers of the Convention have contacted Jerry to participate, and to invite dancers to become involved with the dancing.
There is no fee involved in participation of this project as you will see in the details sent by Maggie Maguire. Contact Jerry if you are interested, and check out the NAFCo website.
"We are delighted that you are interested in participating in our International Ceili Project, part of the North Atlantic Fiddle Convention (NAFCo) which will take place in Derry and Donegal from June 27th-July 1st 2012.
"Over the course of NAFCo, an International Ceili will feature social/group dances from the various North Atlantic regions (e.g. Ceili and set dances from Ireland, Ceilidh dances from Scotland, Shetland and Orkney, Couple Dances from Sweden, Square-sets from Canada etc.).
"In order to prepare for this, advance tuition of the dances will be offered in association with various dance schools across the North Atlantic regions using a variety of actual and virtual teaching situations. These dances will be taught by Mats Melin, a Swedish born traditional dancer, who now teaches dance at the University of Limerick and Jerry O'Reilly, a renowned Ceili and Set-dance dance teacher from Dublin.
"To get the project started two information sessions and dance workshops will be held on Saturday 1st of October, 2011.
Regional Cultural Centre,
Letterkenny, Co. Donegal (10.30am-1.00pm)
and
Cultúroan Uí Chanáin,
Great James' Street, Derry City (2.30-5.30pm)

(Both workshops will have the same content so you only need to attend whichever one suits you best)
"All teachers of ceili, set-dance, traditional couple dances are invited to come and learn more about the project and get introduced to the types of dances involved (Feel free to invite some of your dancers along also if you'd like).
" Following the workshop the dances will be posted on the NAFCO website www.nafco2012.com via video clips and we will a DVD, CD and booklet for teaching purposes will also be provided.
"We hope that teachers from across Donegal and Derry will teach these dances to their own classes in order to encourage maximum levels of participation in the International Ceili itself.
The International Ceili is scheduled for Friday June 29th, 2012 in Derry (and possibly in Letterkenny on July 1st, yet to be confirmed).
There is no fee involved in participation of this project."
Regards,
Maggie Maguire
organiser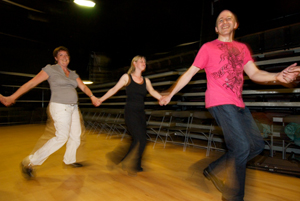 Dancers at Ceili of the Ceili Convention