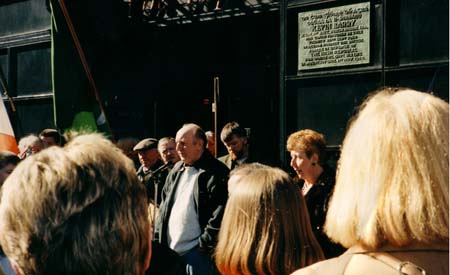 Frank Harte at Kevin Barry's Commemoration, 1998
The death of Frank Harte on the 27th June 2005 left a deep void in the world of Irish traditional singing. Frank saw himself, not just as a singer, but as the voice of the ordinary people of Ireland.
He was born in the village of Chapelizod in County Dublin in 1933, where his father Peter owned The Tap public house.
An architect by profession, he combined his architectural practice with teaching at the School of Construction in the Dublin Institute of Technology.
One of his major commissions was The Irish National Stud in County Kildare.
Lifetime work begins
Frank's road to Damascus moment came when he heard a traveller singing The Valley of Knockanure and selling ballad sheets on the streets of Boyle, County Roscommon.
This encounter sparked a lifelong interest in the idiom of the people. However, this was not his first experience of public singing.
His father's pub in Chapelizod was frequented by a mix of ex-Dublin Fusiliers, who worked in the Ordnance Survey Office in the Phoenix Park, and locals, including members of St. Laurence's Pipe band.
After band practice, the pipers would repair to the pub where, inevitably, a singsong would break out. All sorts of songs were sung including music hall, sentimental Victorian melodrama songs such as She Was Only a Bird in a Gilded Cage and patriotic ballads. So from a very early age he sought out the company of 'ould wans and ould fellas' who had songs.
Searching out the singers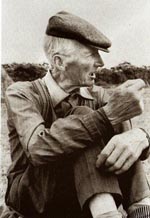 Tom Lenihan spins a yarn
His Interest having been sparked in Boyle, Frank embarked on a lifelong crusade to acquaint himself with all of the diverse aspects of the Irish singing tradition.
He travelled the country wide, and actively sought out the company of singers such as Paddy Tunney, Liz Jeffries, Geordie Hanna, Tom Lenihan, Mick Quinn, Len Graham, Sarah Anne O'Neill, Eddie Butcher, Cornie McDaid and many more.
At every Fleadh Ceoil throughout the Sixties, Seventies and Eighties, Frank and his small hand-held tape recorder were permanent fixtures. Delighting in the company of other singers and always ready to contribute himself, he was a man who loved to hear others sing.
On hearing a song or singer for the first time, he would make it his business to make the singer's acquaintance and find out all he could about both singer and song.
He believed passionately that those songs which documented and commented on local events were the unwritten history of the Irish people. He frequently stated:
"Those in power write the history,
those who suffer write the songs,
and given our history we have an awful lot of songs"
Albums of the story of Ireland
In the final years of his life, he embarked on a major project to record the story of Ireland and her people through song, in collaboration with Donal Lunny.
The first album in this series was 1798 The First Year of Liberty, released in 1998 to mark the 200th anniversary of the rebellion of 1798.
This was followed in 2001 by his double album of Napoleonic songs and ballads entitled My Name is Napoleon Bonaparte, and in 2004 by The Hungry Voice, an album detailing the events of the potato famine from 1845 to 1848.
Just weeks before his death, he had finished his tribute to the Irish navvy, There's Gangs of them Digging, and was due to embark on an album based on his vast collection of love songs.
Sadly, this was destined to remain unfinished, although this final part of the project may yet prove viable given the fine legacy of recordings which he has left us.
"Ní bheidh a leithíed arís ann"
"His like will not be seen again"
Jerry O'Reilly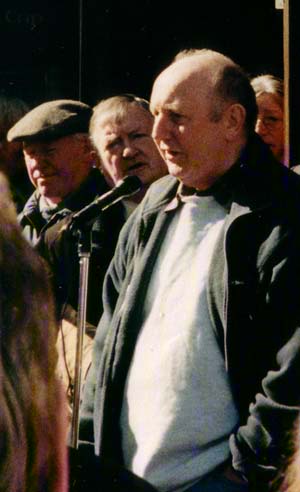 Frank Harte, Song Collector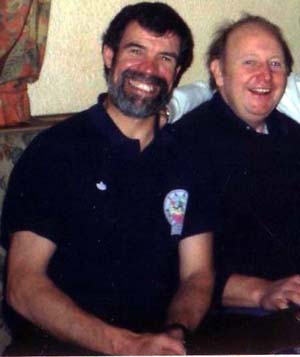 Jerry with Frank Harte