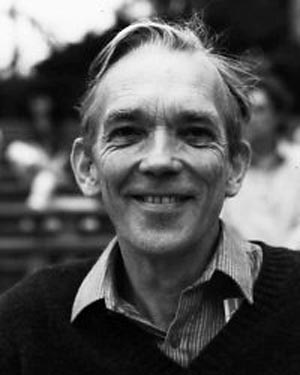 Hugh Shields
HUGH SHIELDS, who died on July 16th 2008 aged 78, was a senior lecturer in French at Trinity College Dublin.
An authority on Irish traditional song with an international reputation, he was a founder member of the Folk Music Society of Ireland/ Cumann Cheol Tíre Éireann and the Irish Traditional Music Archive/ Taisce Cheol Dúchais Éireann.
His friend and collaborator Nicholas Carolan, said at his funeral service:

"It has been the good fortune of Ireland that he used his many talents, predominantly for the collection and study and publication of Irish traditional song and music, especially that of his native Ulster, whose accent he never lost in all his years in Dublin."
Nicholas Carolan
Born in Belfast in 1929, he was one of two children of John and Norah Shields. He attended the Royal Belfast Academical Institution and won a scholarship to Trinity College, where he specialised in French and Spanish, while also studying German and Russian.
In 1952 he received a first-class moderatorship in modern languages and became a Trinity scholar. After a year teaching French and German at Coleraine Academical Institution, a key year in the development of his folk music interests, he secured a post as a junior lecturer, specialising in medieval French, at Trinity.
He became a junior lecturer in 1954 and a full lecturer in 1965 and awarded a PhD in 1966 for his thesis, An Old French Book of Legends and its Apocalyptic Background. In 1970 he was awarded a full tutorship, and in 1978 he was promoted to senior lecturer and in 1980 was made a full fellow of Trinity.
Oral tradition and dialect
He had a particular interest in questions of orality and dialect which were common to his professional studies and to his lifelong and highly productive interest in Irish and other traditional song. Students remember him singing traditional songs to illustrate his medieval French lectures.
He was several times in the 1980s acting head of department, from which he retired in 1994.
Breandán Breathnach,
Caitlín Uí Éigeartaigh and Nicholas Carolan he had taught Irish traditional music part time since 1982.
In 1985 he lectured in the Department of Ethno-musicology at the University of California, Los Angeles. He also lectured widely at traditional music festivals and summer schools.
Recordings, publications
As a young graduate teaching in Coleraine in 1953 and beginning his work of collection, he first met road worker Eddie Butcher, his main source - singer and friend. Eddie was central to his publishing traditional song in print and on sound recordings for the next five decades.
Dublin collector Tom Munnelly.
He edited selections from his field recordings for record companies Topic and Leader Sound, for the Ulster Folk and Transport Museum and for his own cassette label, European Ethnic Oral Traditions.
His classic study Narrative Singing in Ireland: Lays, Ballads, Come- All-Yes and Other Songs (1993) is essential reading for scholars and enthusiasts. He followed this with Tunes of the Munster Pipers, his edition of oral-tradition melodies from the James Goodman manuscripts in the TCD library. Published in 1998, it has had a perceptible influence on contemporary uileann piping.
He also contributed articles to national and international journals including Ceol, Ulster Folklife, Hermathena, Long Room, Folklife, Folklore and the Yearbook of the International Folk Music Council. He was the editor of the Folk Music Society's newsletter Ceol Tíre (1973-1989), its journal Éigse Cheol Tíre - Irish Folk Music Studies (1973-2001) and other publications.
He made a valued contribution to the development of the Irish traditional music archive over many years, a contribution that included the donation of his large collection of field recordings to the archive for public access and the editing of one of its publications.
He is survived by his wife Lisa, daughter Kitty, sons Michael, Denis and Philip, and sister Jean.
Irish Times 26th July 2008
Irish Traditional Music Archive
Taisce Cheol Dúchais Éireann
Irish Traditional Music Archive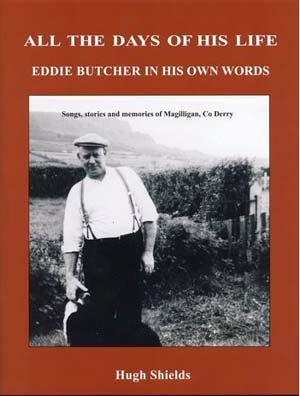 Eddie Butcher book cover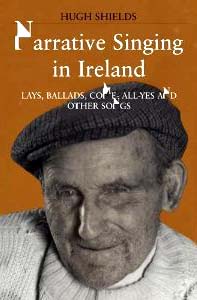 'Narrative Singing of Ireland'