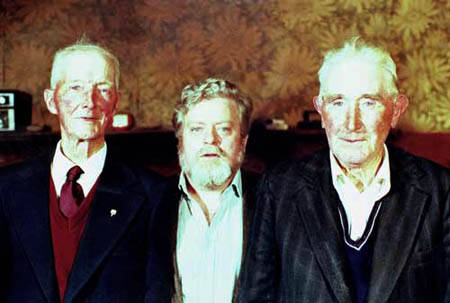 Tom Munnelly with singers
Tom Munnelly died on the 30th of August after a long illness which he bore with courage, fortitude and humour.
Born into a Dublin working class family, he left school at fifteen like most of his generation and went to work in a knitwear factory. His interest in folk music was sparked by membership of the Boy Scouts and An Oige, the Irish youth hostelling organisation.
Initially he decided to collect songs for his own repertoire and embarked on what was to become his life's work. He encountered the traveller John Reilly in Boyle very early on and quickly realised how important John's songs were.
Introduction to John Reilly to Breandán Breathnach
Having brought John Reilly to the attention of Breandán Breathnach, the folk music collector, Breathnach quickly realised that Tom had a special talent and not a little knowledge about traditional song.
When the Dept. of Education decided to fund a pilot scheme to see if there was enough folksong left to merit a detailed effort at collecting it, it was natural that Tom would be one of the people entrusted with the task.
His brief was to see how much English language song was still there.
His efforts resulted in the scheme being put on a permanent basis and being taken over by the Dept. of Irish Folklore in University College Dublin, now the Delargy Centre for Irish Folklore and the National Folklore Collection University College Dublin.
Realising that there was a huge amount of song and lore still remaining he moved himself and family to Miltown Malbay, County Clare in 1978.
Relationships, song and foklore
Using Miltown as his base he ranged far and wide through the country, and as he said himself, was lucky to meet probably the last of a generation who were not exposed to the influence of the mass media.
He had a talent for relating to people and was regarded as a friend by those he collected from. Tom Lenihan, Nora Cleary, Liz Jeffries, Cornie MacDaid, Michael Moran, Junior Crehan, Con Greaney all gave freely their songs and lore to Tom.
While he was Chairman of the Willie Clancy Summer School, he conducted the traditional singing workshops and was the anchor for the big afternoon of traditional singing every year.
To see him surrounded by all of the 'old ones' was a special treat. Thankfully there are some of the photos still on file.
It had become sad for him, as he related, that when he first moved to Clare, on Christmas Eve each year, he would visit all of 'his singers' to wish them Happy Christmas, but now was left to visit graves all over the county with a wreath.
Some of my own treasured memories are of afternoons and evenings spent in the homes of singers, with Tom, recording and interacting with them.
As I said after the death of Tom's friend and contemporary Frank Harte:
"Ní bheidh a leithíed arís ann"
"His like will not be seen again"
Jerry O'Reilly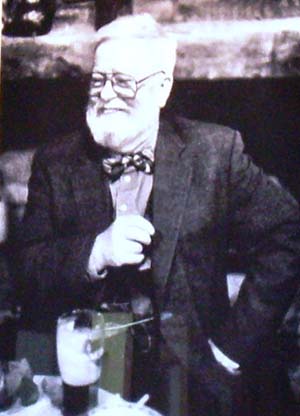 Tom Munnelly, Song Collector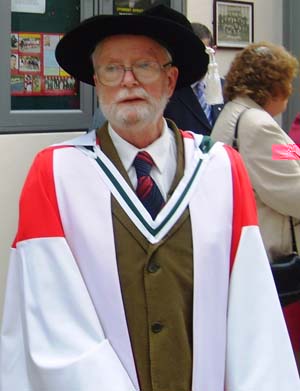 Tom Munnelly receives his doctorate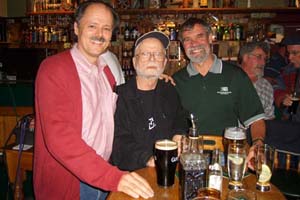 Stan Scott and Tom Munnelly with Jerry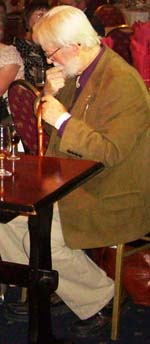 Tom Munnelly listens intently at Clare