Recommended CDs - by An Góilín Traditional Singers Club
'Where Linnets Sing'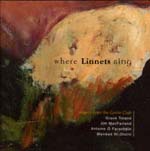 Produced in 2001 this album features four of the better known singers at An Góilín at that time:
Grace Toland, Jim MacFarland, Antaine Ó Faracháin and Mairéad Ní Oistín.
It is an excellent and true representation of all that's best in unaccompanied traditional singing
Jerry O'Reilly
'Around the Hills of Clare'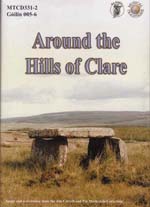 The production of double CD of archive recordings from the Jim Carroll and Pat MacKenzie collection.
Around the Hills of Clare is a joint production from An Góilín and Musical Traditions. It's a double CD of 47 tracks with a 44 page colour booklet included. It's a snapshot of traditional singing in Clare from the 1970s to the present date.
Featured are some of Clare's finest singers, many of whom, like Nora Clearly, Vincie Boyle, Jamesie McCarthy, Martin Howley, Nonie and Patrick Lynch Martin Reidy, Mikey Kelleher have not been heard on commercial recordings previously.
Described by Finbarr Boyle of Claddagh Records as "an inestimable resource" these two albums are required listening for anyone with an interest in 'the real thing'
Jerry O'Reilly
'Down From Your Pulpits, Down From Your Thrones'

Jerry is a singer, dancer and uilleann piper from Dublin.
Here he presents us with thirteen songs, learned over a lifetime.
There are love songs, historical pieces, a murder ballad, a comic or two - in short a good representation of the singing tradition.
Enough of them are unusual enough to be of interest to people who wish to add good songs to their repertory.
Jerry O'Reilly
'Cascades of Song'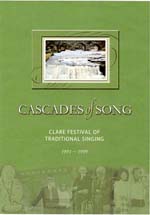 The CD of the Clare Festival of Traditional Singing, which was released earlier this year to popular acclaim.
The Clare Festival of Traditional Singing took place in the North Clare market town of Ennistymon on the June bank holiday weekend from 1990 to 2002.
The centre-piece of each festival was the Grand Concert held in the former Church of Ireland church, St Andrew's now designated as a Teach an Ceoil and traditional music venue.
Most of the recordings were made by Tom Munnelly acting in his dual capacity as director of the festival and folk song collector.
The recordings are a selection of live performances from the years 1991 to 1999, including the natural 'reverb' of the former church and all of the coughs, foot movements, camera clicks, words of encouragement, and other noises that are part and parcel of a Song Concert.
The selections were made by Tom and, indeed, the title was chosen by him also. This album is dedicated to his memory
Jerry O'Reilly
'The Spoons Murder and Other Mysteries'
A book and CD of the songs of Con 'Fada' Ó Drisceóil, which has been a best seller, and produced by Terry Moylan
The author, Con 'Fada' Ó Drisceóil is celebrated throughout Ireland, and beyond, as a maker of comic songs.
He is a gentleman of the Cork persuasion and a very fine box player and singer, specialising in the music and songs of Muscraí, Slíabh Luachra and other parts of Cork.
His talents can also be heard on The Square Triangle, upon which he performs as a member of the 'Four Star Trio', and on It's No Secret, in the company of Hammy Hamilton and Seamus Creagh.
For the past couple of decades these songs have been passed around and savoured by those who delight in the pleasures of improbable stories and witty verse.
Several have been recorded, by Jimmy Crowley, Rosie Stewart and others, and some of them have become modern 'folk songs', having entered the living tradition and being transmitted from singer to singer.
For the first time the general public can enjoy what has up to now been a treat available only to the few - the comic songs of Con 'Fada' Ó Drisceóil.
Here you will find many intriguing tales: the birthday cake with extraordinary properties; the cockroach who debates nice points of philosophy with his victim; the awful fate of the man who rattled his spoons once too often, and many more.
The author's capacity for creating bizarre situations is matched by his ability to capture them, as he himself remarks, "in flawless rhyme" and "in a metre without blemishes!"
Terry Moylan
'Croppy's Complaint'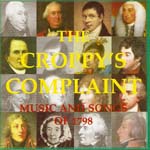 The Croppy's Complaint was produced in 1998 to mark the Bi-Centenary of the 1798 rebellion in Ireland.
There are seventeen tracks of songs and tunes associated with the era.
The line up of singers and musicians could only be described as top class and features:
Mick O'Brien on uilleann pipes;
The Four Star Trio on Accordion, Flute, Fiddle, Guitar and Bodhrán;
Frank Harte;
Jim MacFarland;
Sean Tyrrell;
Éamon Ó Bróithe;
Jerry O'Reilly;
Seán Garvey;
Áine Uí Cheallaigh;
Tim Lyons;
Róisín White;
Barry Gleeson and Mick Willis;
Terry Timmins and Luke Cheevers
A 'must have' for anyone interested in this period of history
Jerry O'Reilly
'Johnny O'Leary of Slíabh Luachra'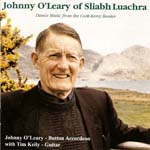 Johnny O'Leary was born in 1924 in Maulykeavane which is about half-way between Killarney and Ballydcsmond, in the centre of Slíabh Luachra.
He lived in the area all his life, and spent his whole life learning and playing the local music.
It is an area that has surely produced more musicians for its size and population than any other part of Ireland. Johnny played with them all, learning tunes and passing on tunes and creating with his fellow musicians an unequalled tradition of music-making.
He started picking out tunes on the melodeon at the age of five and by his early teens he was regularly playing for local dances.
By the time he was 15 he had struck up a musical partnership with Denis Murphy that was to last a remarkable 37 years, ending only with Denis's death.
In 1964 Johnny and Denis accepted an invitation to play in Dan O'Connell's newly opened pub in Knocknagree, and Johnny played for the sets there, every Friday and Sunday night until his illness and death in 2004.
He was always regarded by discerning dancers as a joy to dance and listen to.
Terry Moylan
A Thimbleful of Song: Tim Dennehy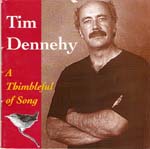 Recorded and first released on cassette in 1989, this, Tim Dennehy's first album, was re-mastered and re-released in 1996.
It contains 11 tracks of the type of song that have come to be associated with Tim's singing.
Some are songs of love and longing, a song in celebration of what has now, almost disappeared in Ireland, the rural sports meeting; a song of the Black and Tan period; a comic account of the attempt of a transported Irishman to walk from Australia to China.
And two songs in Irish and a fine tribute to Sigerson Clifford, including Tim's treatment of Clifford's haunting The Ballad of the Tinker's Daughter.
Jerry O'Reilly
The Square Triangle: The Four Star Trio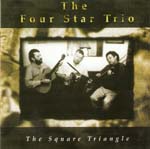 At the heart of The Four Star Trio's sound lies the interplay of fiddle and accordion, probably one of the most agreeable combinations of instruments in traditional music, with a subtle underplay of guitar.
They draw their repertoire from throughout Ireland and, indeed, beyond. They have a particular interest in the music of Slíabh Luachra, that musical kingdom which loosely straddles the Cork/Kerry Border.
The Four Star Trio have appeared throughout Ireland, and have played together across Europe, taking the occasional foray to Asia on the ever-developing traditional music world-wide network. Apart from live work, they have undertaken extensive television and radio work.
There is a strong emphasis on Slíabh Luachra, not alone in the customary polkas and slides, but in reels, jigs and hornpipes associated with the area.
Johnny McCarthy contributes two beautiful love songs: the atmospheric Idir Corcaigh agus Dúghlas, and the sparse, yet powerful, The Banks of the Lee.
Con 'Fada' Ó Drisceóil gives two comic songs of his own composition: The Miltown Cockroach, a heart-felt, if unscientific, treatise on the wildlife of West Clare and Hymn to St. Finbarr, which attempts to assign to Cork's patron saint some of the mythic status usually afforded to St. Patrick.
Terry Moylan