Bold Jack Donohue
Jack Donohue was born in Dublin in 1804. He supported Irish nationalism and at the age of 20 was sentenced to be transported for life to New South Wales

Bold Robert Emmet
Robert Emmet, a leading member of The United Irishmen, the last man to be hung drawn and quartered

The Spanish Lady
The ramblings of a young man through the city, naming the various places he visits which are evocative of my youth
---
November 2011 - Due release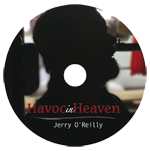 This is the label of the new CD currently in production.
Below, the cover of the booklet accompanying the CD containing a great deal of historical background to the songs.
---
Released 2003

Down from your thrones"
"Down from your pulpits"
---
Willie Clancy Festival, 2008
Jerry sings at Willie Clancy Festival
"For three long years I was beastly treated,
And heavy irons on my legs I wore,
My back with flogging was lacerated,
And oft-times painted with crimson gore.
And many a man from downright starvation
Lies mouldering now within the clay
For Captain Logan he had us mangled
Upon the triangles of Moreton Bay.

Oh Moreton Bay you'll find no equal
Norfolk Island and Emu Plains
At Castle Plains and cursed Toongabbie
And all time places in New South Wales."